Blackjack Strategy and Blackjack Rules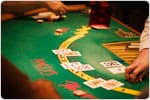 In blackjack it's about getting as close to 21 as possible. The one closest to 21 wins the hand. If dealer or player hits over 21 the opposite wins. Cards from 2-9 counts as their nominal value, 10 and face cards as 10 and the ace as 1 or 11.
There are no limit to the amount of cards the player can receive as long as the value isn't higher than 21. The casino on the other hand must draw at 16 or under and stand at 17 or over.
Play Blackjack here
Blackjack options

Hit
You receive one more card. After that it's only possible to hit or stand.
Stand
You won't receive any more cards and so the dealer draws.
Double Down
You choose to double your stake and you will receive one more card.
Split
If you get two of a kind, you choose to split them and double your stake.
Insurance
If the dealer's first card is an ace you can buy insurance.
Blackjack
If you get 10 or a face card and an ace you get the highest value possible.
Hard / Soft
Example of hard/soft: Ace + 6 is hard 7 or soft 17.
Bust
If you get over 21 you lose. So does the dealer.
Blackjack strategy
When you play Blackjack, you can use a Blackjack chart. It can help you to make the best strategic move. If you follow the Black Jack chart slavishly the payout ratio is at an average of 98%. Click here to see the BlackJack chart.
How to play blackjack
The Black Jack chart is simple to read and understand. In the top row you will find the dealers visible card. In the left column you will find your two cards. Either the sum of the cards or both cards if one is an ace. Where the columns cross it will tell you to either stand, hit, double down, split or insure. You should never buy insurance, because it will almost always cost you half your stake, unless the dealer gets Blackjack.
You can optimize your game by using the right chart to the specific software.
Play now at Casino Club - 100% deposit bonus up to €250!