July 15 2009
Grand slam of slots tournament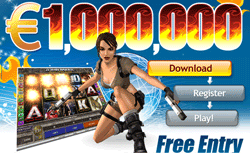 Entry for new players at Roxy Palace Casino will be free and an option is be available for re-buys.
All new players will need to register and enter the casino to participate in the slots tournament; a weekly leader board will list each player's winnings and position.

Roxy Palace Casino offers new customers the opportunity to participate in the Grand Slam of Slots tournament and win the 1st prize of €1,000,000!
This is an invitation ONLY event, which is limited to a pre-selected number of players. The final will be held over 9 days from Friday, 23rd October 2009 to Monday, 2nd November 2009.
This is the 1st online slot tournament offering a winner's prize of €1,000,000. Each Grand Slam of Slots final player has a 1 in 5 chance of winning a prize and at least 1 in 15,000 chance of winning €1,000,000!
All players in the Grand Slam of Slots final will play the Tomb raider slot game, with the same number of coins (~15 minutes game play), the player who has the most winnings by the close of the competition will win the 1st prize.
Players have unlimited re-buys at €50 each to have another chance of improving their score and position on the leader board.
Timetable
15 weekly tournaments running Monday 00:01 through Sunday 23:59 .
Tournaments run from 06/07/09 until 17/10/09 inclusive.
Free roll, open to all new & existing members.
Members will be able to play in each of the 15 weekly tournaments.
Scheduled tournaments.
Time based.
How to play

Download Roxy Palace Casino.
Register details.
Go to lobby.
Access tournaments.
Access slot tournaments.
Select "Grand Slam Tournament free roll".
Create tournament alias.
Register for tournament.
Play straight away or anytime over the period.
Re-buy option available ($10).
Re-buy at any time until the weekly tournament closes.
Refer to leader board for positioning up to 24 hours after tournament closes.
Can play again the following week if so wishes.
Leader board constantly updated & stays up 48 hours after event.
Winners contacted by email and invited into GSOS final.
Format of the Final
Final to run over @ 9 days – 17:00 UK Time Thurs 22nd Oct to 20:00 UK Time Mon 2nd Nov.
Game: Tomb raider.
Starting Coins: 9,000 (120 spins on Max Bet of 75 per spin and @ 10 min. of play).
Unlimited Rebuys – EUR 20 each - means players can have as many goes as they want to improve their score.
Up to 3 Add On : 4,500 Coins (60 spins on Max Bet of 75 and @ 5 min of play) for EUR 20 each Add On.
Play Time: 1 hour Only a player's top score appears on the leader board and qualifies for a prize.
Enter the grand slam of slots tournament now!
Roxy Palace is powered by Microgaming. £10 free play. £350 signup bonus and more than 500 online casino games. Roxy Palace is licensed by the government of Malta!